Say hello to our 2013 Rodeo Hero,
Robert Schwartz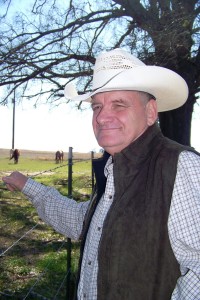 Robert Schwartz loves a good A&M Football game, spending time with his buddies at the Lufkin Living Center, a good chicken fried steak, "Dancing with the Stars" and at the top of the roster- visiting his family in Bryan, Texas.
Robert enjoys living at his current home at Circle Drive where several past rodeo heroes reside.   He and his house mates live very independently and lead a busy life.  Robert assists in preparing meals, setting the table and keeping his room clean.
He enjoys working and loves his job at Olive Garden where he assists in prepping tea and silverware for guests.  He also works on campus where he assists people that use wheelchairs for transportation.  Robert likes competing in the State Music Festival and enjoys singing daily.  Those around him enjoy the natural sound of his baritone pitch humming of tunes as he carries out his daily duties.
Robert is a member of the Lufkin Kiwanis Aktion Club which is a service organization.  He faithfully attends weekly Catholic mass and enjoys his time of worship and faith.  He keeps in touch with his family, and thrives socially by meeting new people through his work in the community.
Robert is just a good guy who is excited to do his part every day, to fulfill his duties, help others, enjoy people and enjoy life.  He is a great example of the heart of a true and tried Texan!